2002
Key West, Cuba, The western Caribbean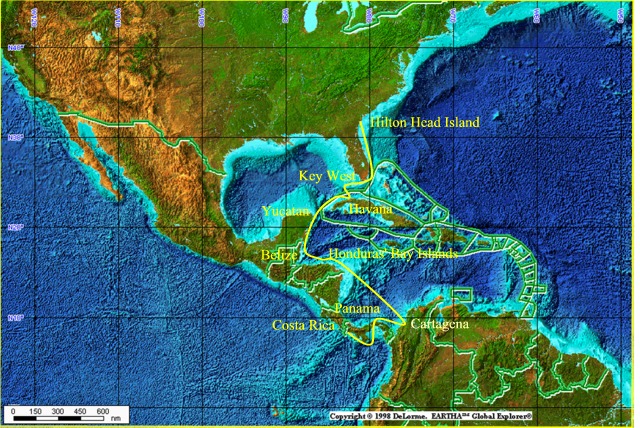 The yellow line marks our planned route for 2002
January, Key West and the Dry Tortugas: We'll return to Sister on Hilton Head Island, SC where she has been waiting out the hurricane season. After what I hope is just a little maintenance we'll head down to Key West for a few days. When the weather permits (as always) we'll sail west to the Dry Tortugas, a group of islands about 60 miles from Key West. Fort Jefferson is a 19th century fort on Garden Key in the Dry Tortugas that is reputedly worth seeing.
February, Havana: In November, 2001 Cuba was devastated by hurricane Michelle. Before departure we'll find some way to check out the status of Marina Hemingway in Havana so we know that there is a place for us there. Maybe there's something we can do to help as well.
February-March, Yucatan and Mexico: From Havana we'll cross the Yucatan channel to Isla Mujeres in Mexico. We may spend a while at Isla Mujeres perhaps even leaving Sister there while we make some inland junkets to see the Mayan ruins. Heading south along the Mexican coast we'll cruise places like Cozumel, Tulum and ???
March-April, Belize and Honduras' Bay Islands: From a cruising perspective this could be the highlight of the year. Belize has the worlds second longest barrier reef. There are several points at which one can take one's boat inside the reef and sail for miles in lake-like conditions. Further, the snorkeling and beaching are unparalleled.
May-June, Columbia, Panama- San Blas Islands and the canal: Columbia is a definite maybe. We have the charts, the courtesy flag and the cruising information to make a stop in Cartagena. It remains to be seen whether we'll have the time.

The San Blas Islands are just off the "north" coast of Panama. They are famous for their pristine beauty, primitive conditions and the beautiful molas which the native Cuna women of the islands make. After the San Blas islands we hope to take Sister through the canal and leave her in Costa Rica while we return home for a few months.