ySister's Itinerary
July-August, 1999
Sweden to England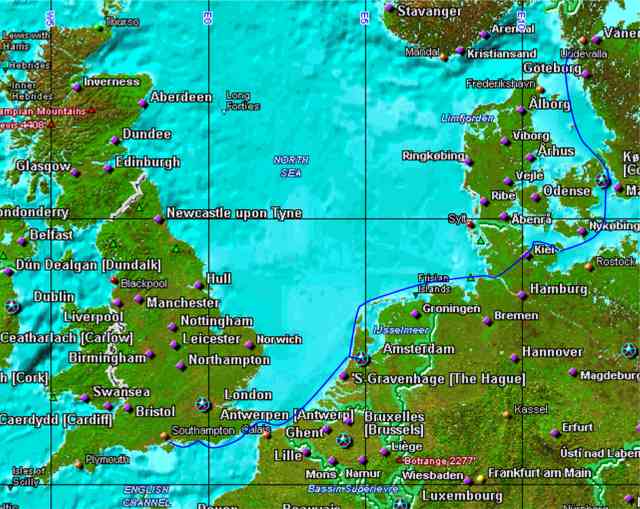 Our route from Sweden through the Kiel Canal to England
After a break at home we returned to the boat in mid July. Camelia and Ryan joined us for this part of the journey.
We spent a few days on the Danish islands of Laeso and Anholt, a week or so in Copenhagen, a few days each on the Dutch island of Ost Vleeland, in Amsterdam and Brighton, England.
Part of the trip was through the Kiel canal in Germany. This canal was built to provide a quick route between the North Sea and the Baltic Sea. In fact in many publications it is referred to as the North Sea-Baltic canal. As you can see on the map, were it not for the Kiel canal, all marine traffic traveling between these two seas would have to travel up and over the top of the Danish peninsula. A boat trip from Copenhagen to Bremerhaven, a major German port, is approximately 250 nautical miles long via the Kiel canal. The trip between the two port cities via the Skagerrak, around the top of Denmark, is approximately 450 nautical miles. The Kiel canal shortens the distance by over 40 per cent.
Anholt, Copenhagen, Ost Vleeland, Amsterdam and London were the highlights of this period.