Chuck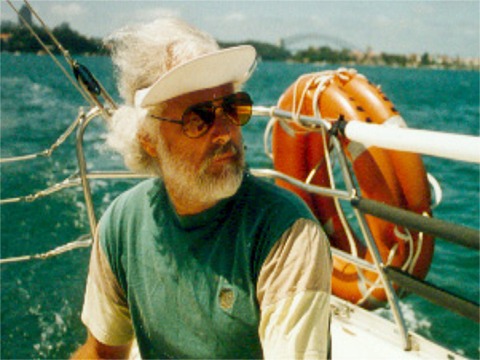 Chuck sailing in upper Sydney harbor, Australia
| | | |
| --- | --- | --- |
| Name: | Chuck Carroll | |
| Home Port | Ames Lake, Washington | |
| Signed on: | 13.April.1999 | Ellos, Sweden |
| Signed off: | Not likely | |
When I was younger, sailing my own boat on the open ocean was a dream. For various reasons, that dream sort of went underground for a few decades. Then in the early nineties Andy and I bought a Passport 37 sailboat and sailed it on Lake Washington and in Puget Sound. We didn't consider open ocean sailing.
In 1994 we took our boat North to Desolation Sound in British Columbia. With that trip the dream began to resurface. During major parts of 1994, 95 and 96 we were preoccupied with rebuilding our house but I began reading all the cruising books and magazines I could and the dream percolated.
In 1996 we began looking, in earnest, for a cruising boat. By early 1997 I knew I wanted a Hallberg-Rassy and in April of that year we made an offer on a Hallberg-Rassy 42 in Antigua. Upon visiting the boat we backed out of the deal.
Disappointed, I stopped looking for a while. Gradually the fervor returned and I recommitted myself to finding "the boat". I went aboard a couple of new Hallberg-Rassy's and went for a demo sail on an HR-46. It was over. I was going to have an HR-46. Several months of international searching using, telephone, fax, email and the net turned up 3 used HR-46s. All three were in Europe and all three were priced within a few per cent of a new boat. In May, 1998 I placed an order for a new Hallberg-Rassy 46. In the spring of 2000 we sold the 46 and in June 2000 took delivery of a new Hallberg-Rassy 53. Both have been magnificent boats.